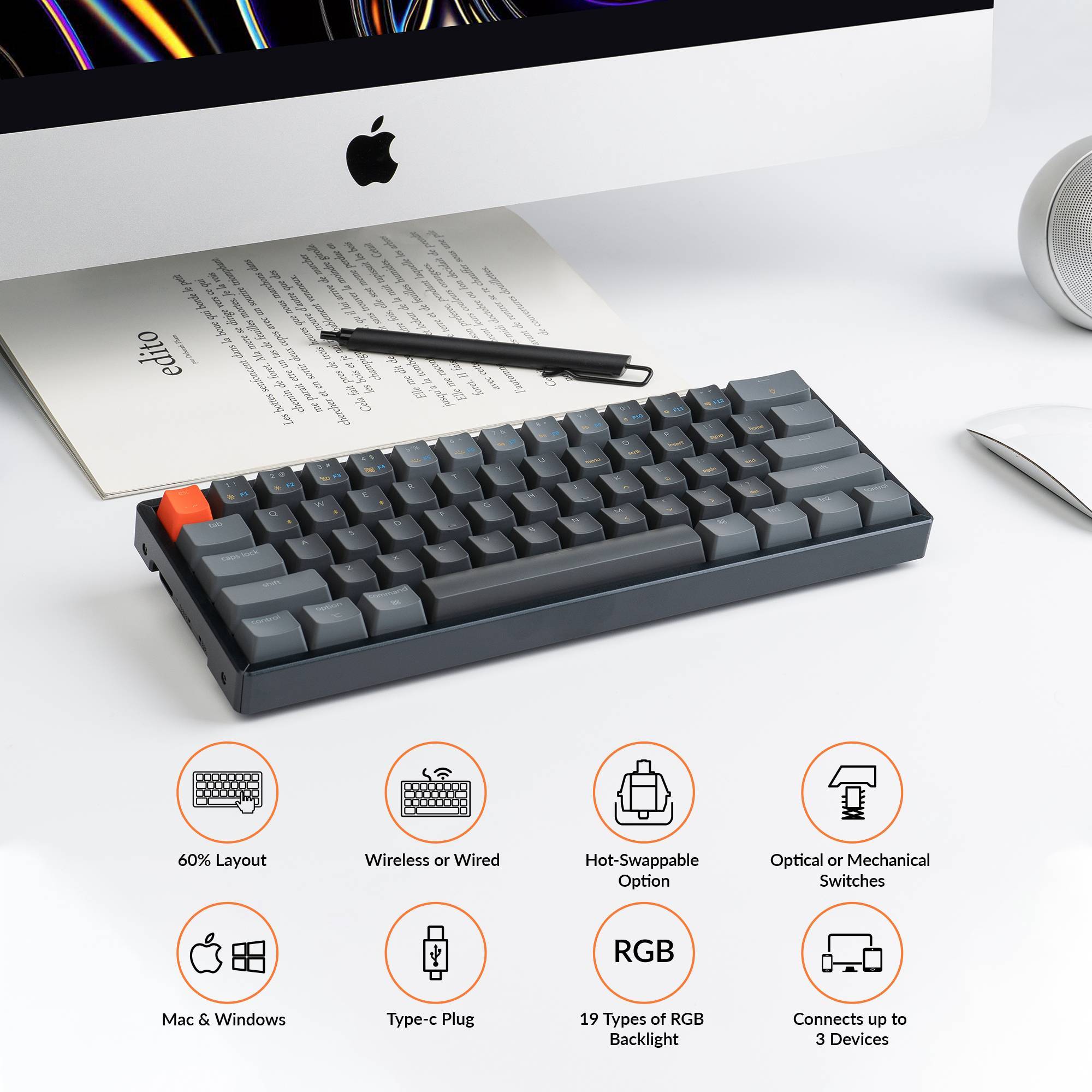 A 60% COMPACT WIRELESS MECHANICAL KEYBOARD

Engineered to maximize your productivity with most popular 60% layout. The K12 hot-swappable option on Optical and Mechanical switches offers the freedom to easily personalize your typing experience without soldering.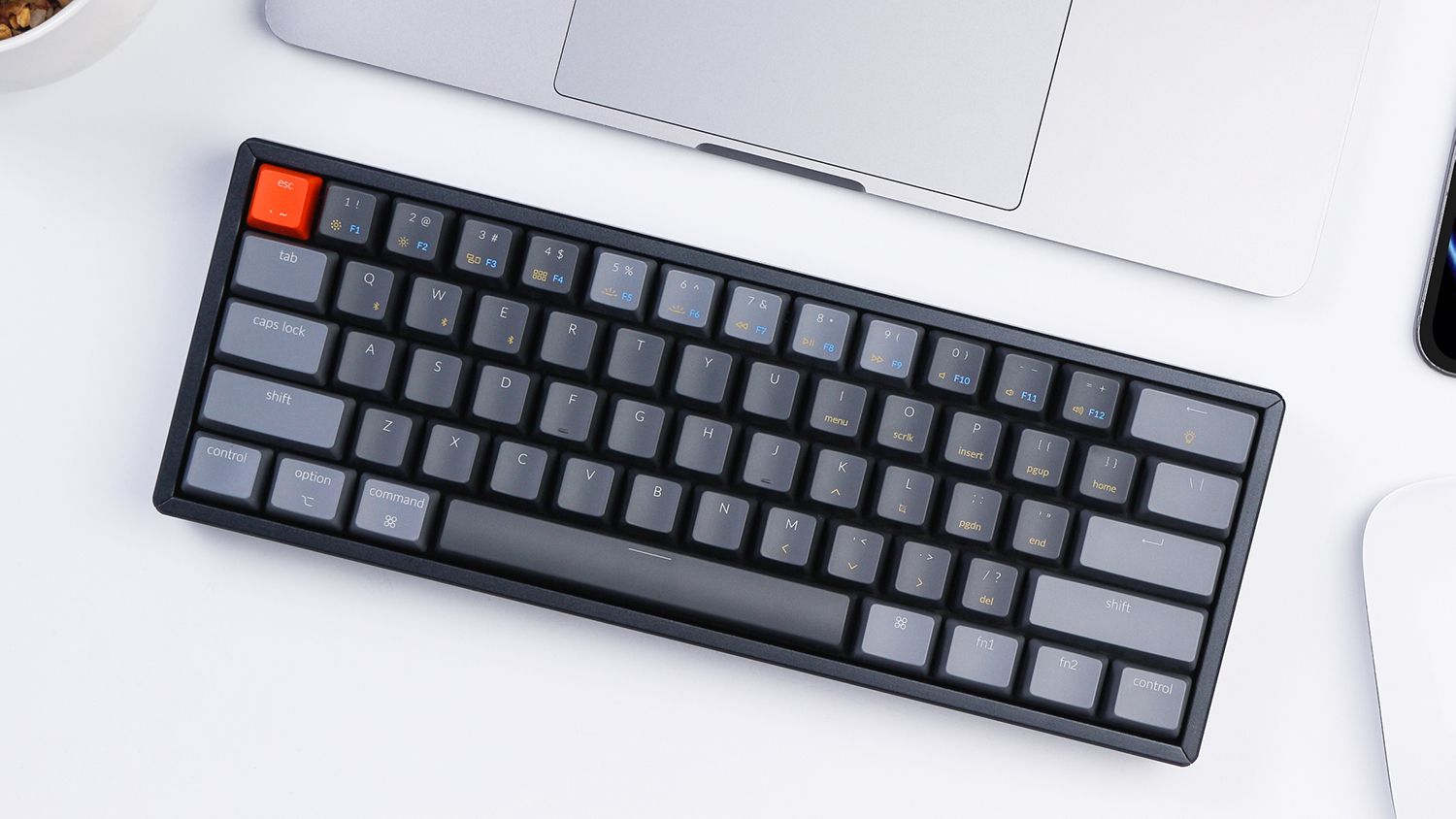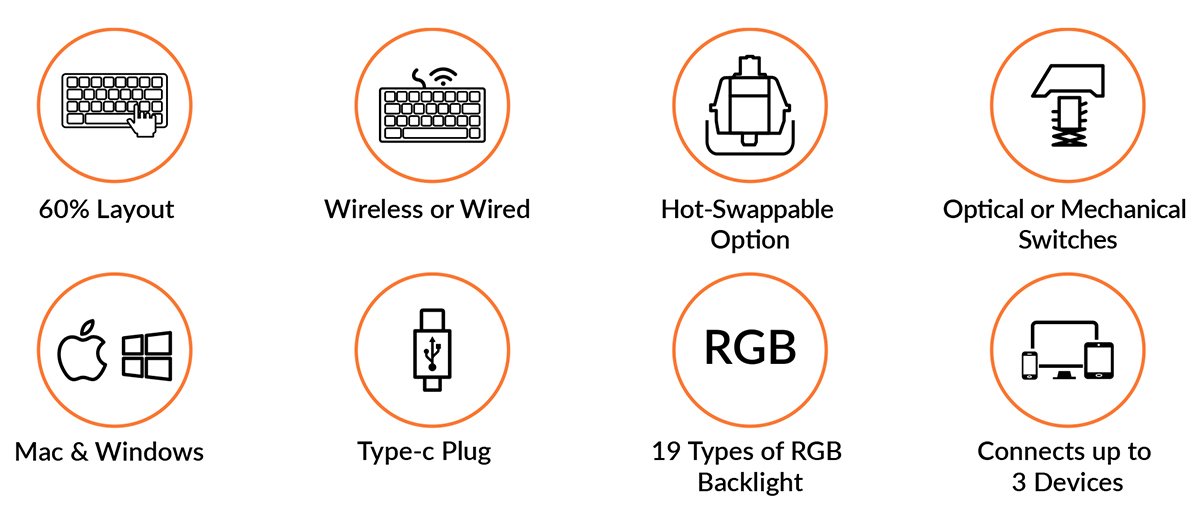 HOT-SWAPPABLE

Hot-swappable means to customize typing experience for every key without soldering, just pop them in and it's done..
*Socket of Keychron Non-backlit (Hot-swappable) and Gateron (Hot-swappable) are compatible with almost all the MX style 3-pin and 5-pin mechanical switches on the market (including Gateron, Cherry, Kailh, etc.).
18 TYPES OF RGB

Comes with 18 types of RGB backlight settings (exclude Non-Backlit Version) as well as a static white backlight option. You can also adjust the keyboard brightness to sync with your mood. Various backlight patterns are available on the K12 White Backlight version.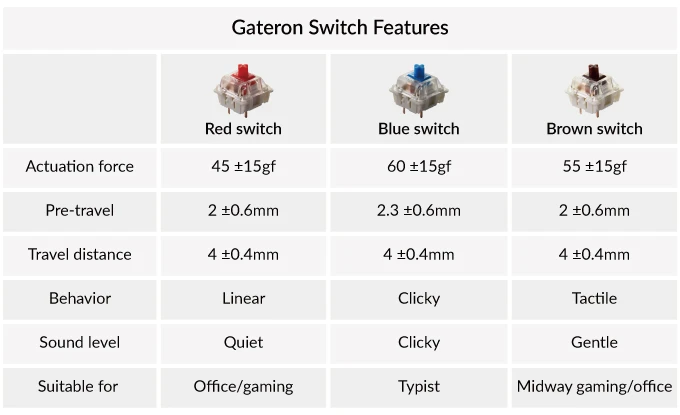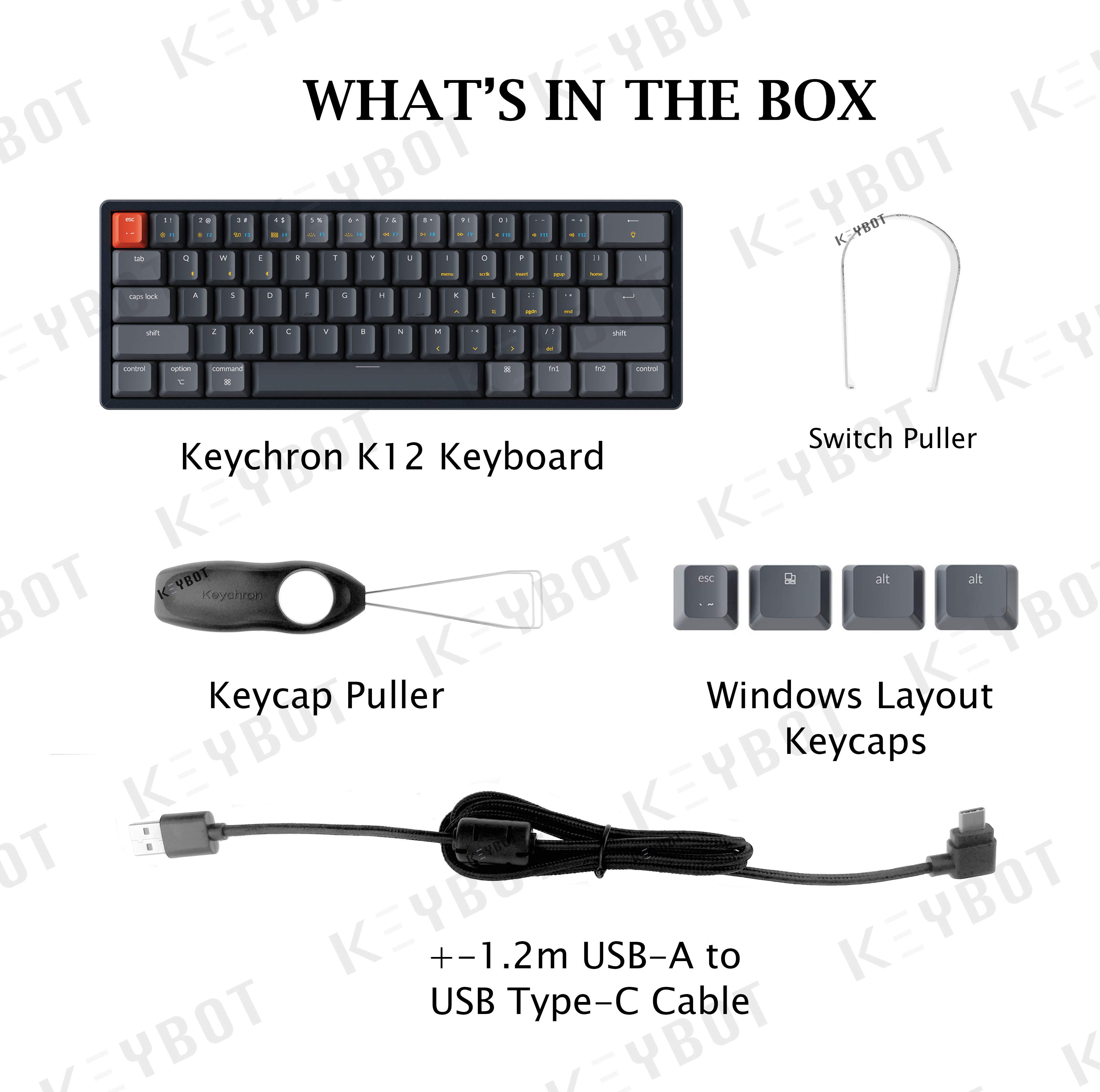 ---
SPECIFICATION


Number of Keys: 61 keys
Number of Multimedia Keys: 12 Frame Material: ABS / ABS+Aluminum bezels
Keycap Material: ABS
Keycap Profile: OEM
Layout: ANSI
Version: Gateron Mechanical / Optical / Keychron Mechanical / Hot-swappable
Switches: Gateron Mechanical / Keychron Optical / Keychron Mechanical

*Socket of Keychron Non-backlit (Hot-swappable) and Gateron (Hot-swappable) are compatible with almost all the MX style 3-pin and 5-pin mechanical switches on the market (including Gateron, Cherry, Kailh, etc.).

PHYSICAL UNIT


Dimension (Plastic frame version): 293 x 102mm
Weight: About 536g / 1.18lbs
Dimension (Aluminum bezels version): 298 x 107mm
Height without keycap (front) 24mm
Height without keycap (rear) 30mm
Weight: About 664g / 1.46lbs
Operating Environment: -10 to 50℃

CONNECTIVITY AND POWER
Backlit Types: 18 (Exclude Non-Backlit version)
Backlit: Adjustable 4-level RGB backlit (Exclude Non-Backlit version)
System: Windows/Android/Mac/iOS
Battery: 4000mAh Rechargeable li-polymer battery
BT Working Time (Non-Backlit version): Up to 570 hours (Lab test result may vary by actual use)
BT Working Time (Backlit off): Up to 240 hours (Lab test result may vary by actual use)
BT Working Time (White backlit): Up to 68 hours (Lab test result may vary by actual use)
BT Working Time (RGB backlit): Up to 72 hours (Lab test result may vary by actual use)
Connection: Bluetooth and Type-C cable
Bluetooth version: 5.1
Bluetooth Device Name: Keychron K12

PACKAGE CONTENT
1 x Keyboard
1 x USB-C to USB Type-C Cable
1 x Keycap Puller
1 x User Manual
Learn how to install a switch on hot-swappable board properly