World's first 65% ultra-slim wireless mechanical keyboard
KEYCHRON K7
Hot-swappable option | Low-profile optical & Gateron switches | 65% layout

Incorporating the world's first hot-swappable low profile Optical switches to customize per-key typing experience with ease, together with all signature Keychron features.
FEATURES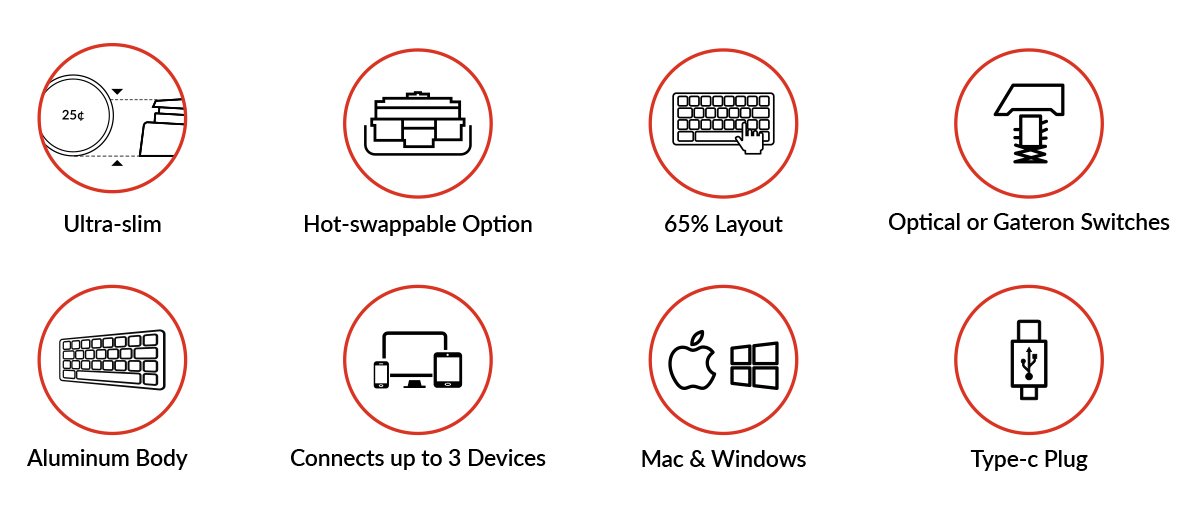 WIRELESS AND WIRED



Be ready to multitask without missing a beat by connecting the K7 with up to 3 devices via the stable Broadcom Bluetooth 5.1 and switch between your laptop, tablet and phone seamlessly. You can also connect the K7 to your computer with a type-c cable.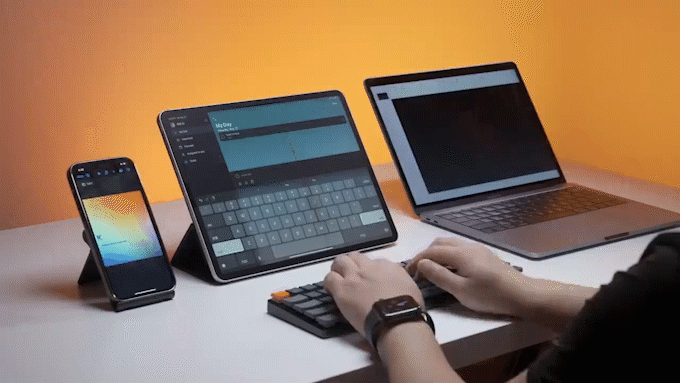 ULTRA-SLIM



The redesigned low profile switch is 40% slimmer than conventional switches, while still providing an impeccable and consistent typing experience.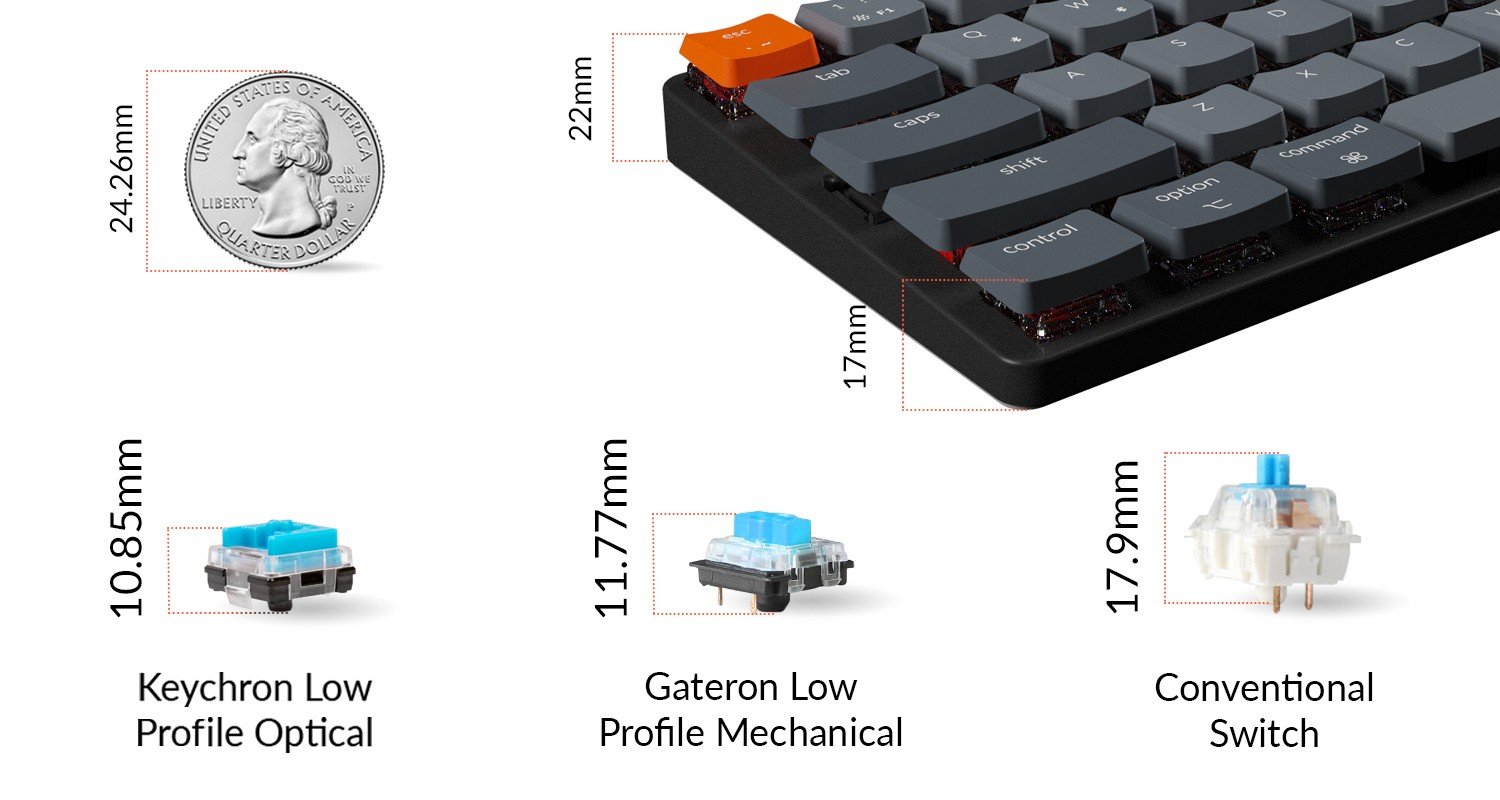 Together with the reinforced aluminum body makes the K7 one of the thinnest wireless mechanical keyboards in the world.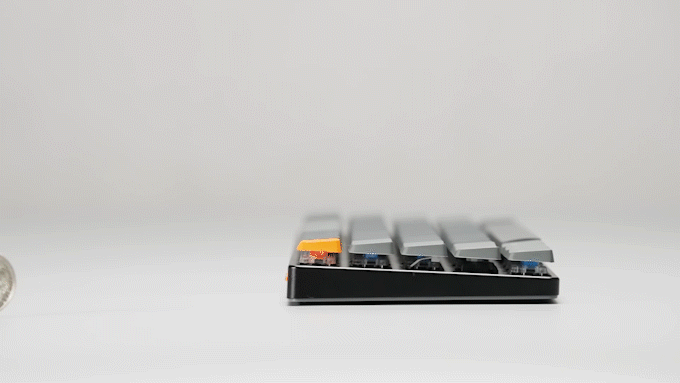 Engineered with two adjustable feet levels and curved keycaps to provide long-lasting ergonomic typing support.
HOT-SWAPPABLE
Imagine getting a clicky response on big keys, linear feel on modifier keys, and tactile feedback on characters, make it happen now with our hot-swappable functionality on the Keychron K7 low-profile optical version. The K7 is the first-ever low-profile Gateron keyboard that offers a hot-swappable option.

You can easily hot-swap every switch to customize your typing experience on the K7 without soldering. *Hot-swappable feature is available for Low Profile Keychron Optical switch and Low Profile Gateron Mechanical (Hot-swappable) versions only.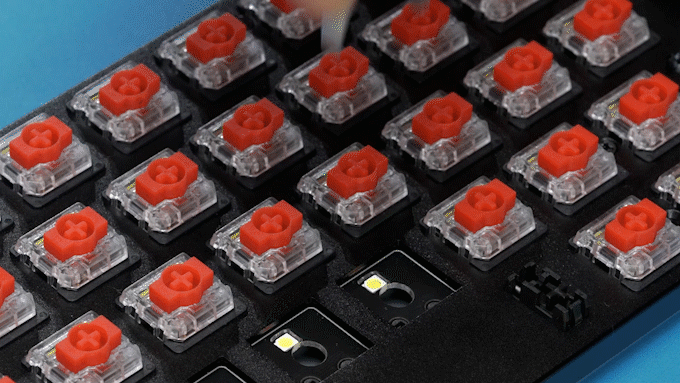 MECHANICAL OR OPTICAL?



The low-profile switches trimmed down the nonessentials of normal profile switches without sacrificing their typing experience, the K7 provides an impeccable and consistent typing performance, whether you prefer linear (Red), clicky (Blue), or something in between (Brown, Banana, Mint).
Low-Profile Gateron

Durable low profile Gateron Mechanical switch with a 50 million keystroke lifespan to provide an unrivaled tactile responsiveness



Low-Profile Optical
You can now feel the tactile bump at the beginning (like those commonly sought-after of Panda switches) on a low-profile keyboard on the innovative K7 low-profile optical Banana and Mint switches. These light actuated switches are crafted for typists or gamers who want to type at lightning speed with a 70 million lifespan much greater than industry standards.

*Low profile Keychron Optical switch keyboard is not compatible with any normal profile mx style mechanical switch.

The Banana and Mint switches comes with an early tactile bump of every downstroke like those Panda switches, that's the main difference between the Banana/Mint and the Brown switch. More add-on switches here.
COMPACT YET DURABLE
A compact 65% layout comes with dedicated arrow keys that are neatly designed to minimize the amount of space, and give you access to all the essential multimedia and function keys through a combination of keypresses whenever you need it.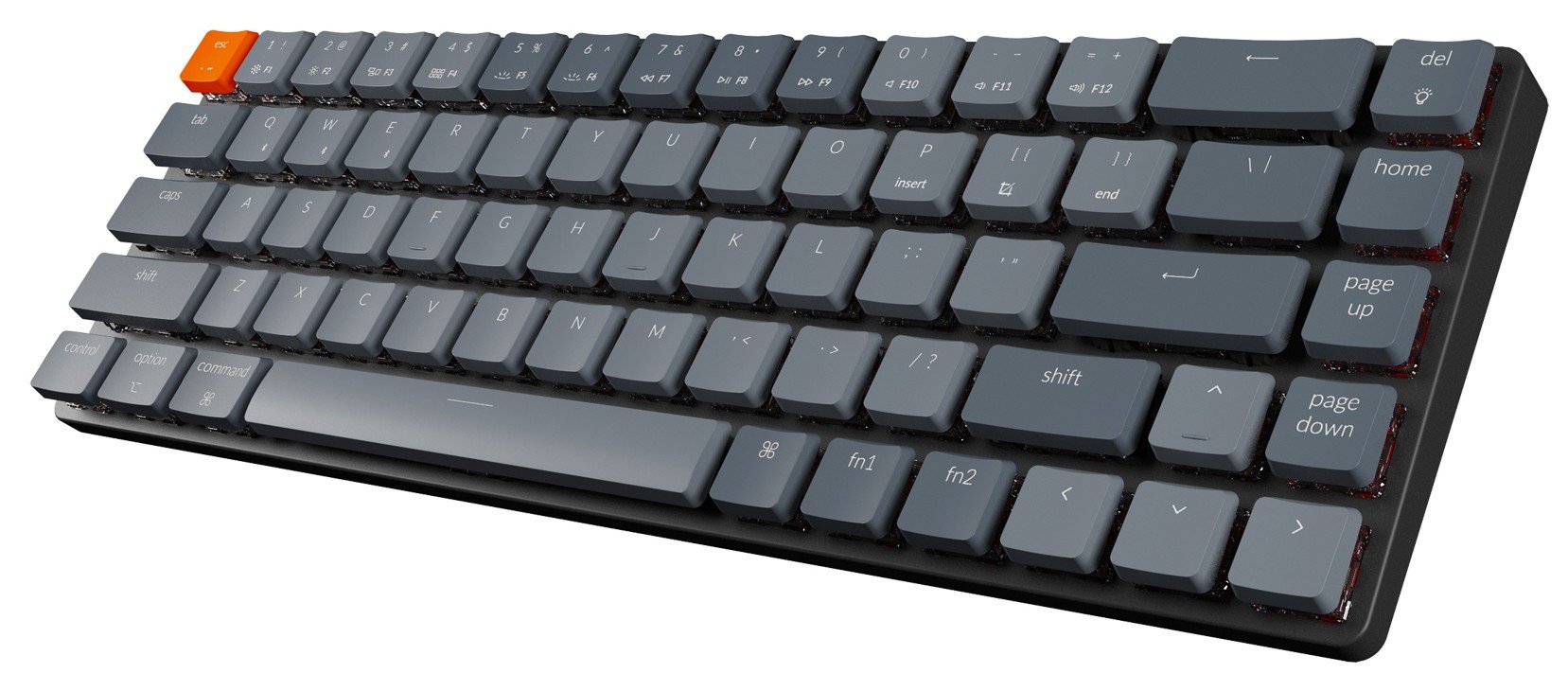 The aircraft-grade reinforced aluminum frame as a pillar to make the K7 durable yet elegantly slim. An SGCC galvanized steel plate is added to the plastic bottom frame in order to strengthen the K7's body structure, while still maintaining a stable wireless transmission capability of the K7.













MX SYLE STEM




We developed an MX-style stem on the K7's low-profile switches as well as stabilizers on the big keys (e.g.: space bar, left Shift, backspace, and Enter key) in an attempt to revamp the reliability. Read more here.






18 TYPES OF RGB



Comes with various RGB backlight settings, you can adjust the keyboard brightness to sync with your mood. Various backlight patterns are also available on the K7 White Backlight version.


---
SPECIFICATION


Number of Keys: 68 keys
Layout: ANSI
Version: Gateron / Optical / Hot-swappable
Switches: Low profile Gateron mechanical / Low profile Keychron Optical
Number of Multimedia Keys: 12
Frame Material: ABS+Aluminum frame
Keycap Material: ABS



PHYSICAL UNIT


Dimension: 307 x 97.5mm
Height incl. keycap (front) 22mm
Height incl. keycap (rear) 18mm
Weight: About 348.7g / 0.77lbs
Operating Environment: -10 to 50℃


CONNECTIVITY AND POWER
Backlit Types: 18
Backlit: Adjustable 4-level RGB backlit
System: Windows/Android/Mac/iOS
Battery: 1550mAh Rechargeable li-polymer battery
BT Working Time (Single LED): Up to 34 hours (Lab test result may vary by actual use)
BT Working Time (RGB): Up to 34 hours (Lab test result may vary by actual use)
Connection: Bluetooth and Type-C cable
Bluetooth version: 5.1
Bluetooth Device Name: Keychron K7
Compatible System: macOS/Windows


PACKAGE CONTENT
1 x Keyboard
1 x USB-A to USB Type-C Cable
1 x Keycap Puller
1 x Switch Puller (For Optical version only)
1 x User Manual