The K6 has included keycaps for both Windows and Mac operating systems. Hot-swappable version comes with Gateron switch preinstalled.

AN INNOVATIVE 65% COMPACT
WIRELESS MECHANICAL KEYBOARD

Crafted to maximize your workspace with an ergonomic design, while retaining all necessary multimedia and function keys.
WIRELESS AND WIRED MODES




Connects with up to 3 devices via Bluetooth and switch among them easily. With high reliable and broad compatibility Broadcom Bluetooth chipset, the K6 is best to fit home, office and light gaming use while connecting with your smartphone, laptop and iPad. It also has wired mode with USB Type-C connection.



Keychron K6 Layout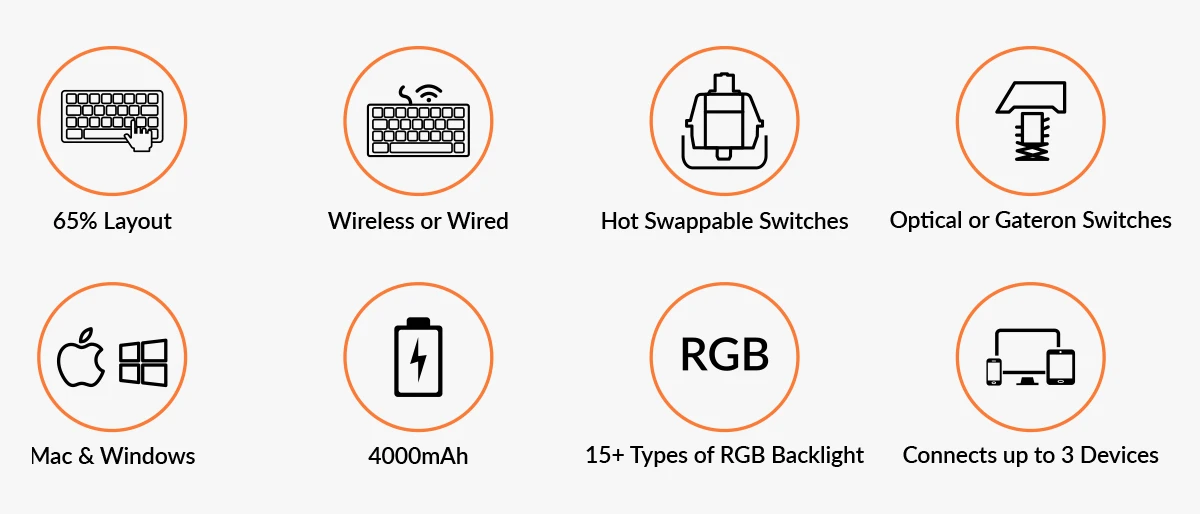 Three Versions
Gateron Switch

Durable Gateron mechanical switch with a 50 million keystroke lifespan to provide an unrivaled tactile responsiveness

Optical Switch


Designed with gamers in mind, the LK optical switch enables every key trigger to have a latency of only 0.2ms on linear Red switches / clicky Blue switches / tactile brown switches and an lifespan longevity of 100 million keystroke with an unrivaled tactile responsiveness.

*The LK optical switch version is hot swappable, but we don't recommend you to alter their switch often as the keys are plugged on the plate very tight, not that easy to swap. It's only compatible with certain kinds of LK optical switch (need the same dimension).

Hot-swappable with Gateron switches pre-installed

You can alter every switch in 5 seconds without soldering, just pop them in and it's done. It means the freedom to customize your typing experience with ease.

*Compatible with almost all the MX style SMD-LED mechanical switches on the market (including Gateron, Cherry, Kailh, etc.)
Keychron K6 Layout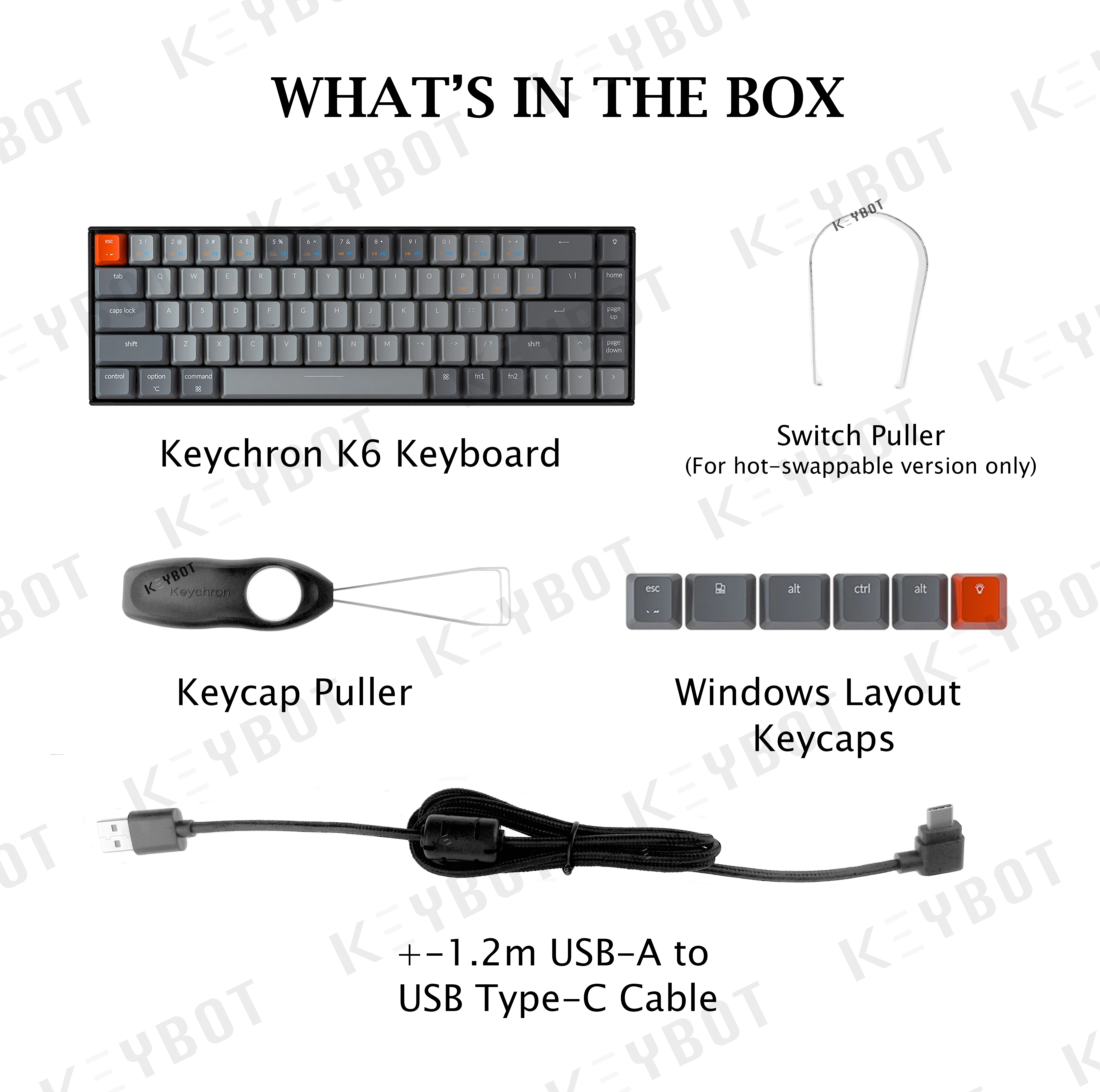 ---
SPECIFICATION


Number of Keys: 68 keys
Version: Gateron / Optical / Hot-swappable
Switches: Gateron mechanical / LK optical
Number of Multimedia Keys: 12
Frame Material: ABS / ABS+Aluminum bezels
Keycap Material: ABS
Keycap Profile: OEM
Layout: ANSI

PHYSICAL UNIT


Dimension (Plastic frame version): 313 x 104mm
Weight: About 530g / 18.6oz
Dimension (Aluminum bezels version): 317 x 107mm
Height incl. keycap (front) 30mm
Height incl. keycap (rear) 37mm
Weight: About 664g / 23.4oz
Operating Environment: -10 to 50℃

CONNECTIVITY AND POWER


Backlit Types: 18
Backlit: Adjustable 4-level RGB backlit
System: Windows/Android/Mac/iOS
Battery: 4000mAh Rechargeable li-polymer battery
BT Working Time (Backlit off): Up to 240 hours (Lab test result may vary by actual use)
BT Working Time (Single LED): Up to 68 hours (Lab test result may vary by actual use)
BT Working Time(RGB): Up to 72 hours (Lab test result may vary by actual use)
Charging Time: Around 3 hours
Connection: Bluetooth and Type-C cable
Bluetooth version: 5.1
Bluetooth Device Name: Keychron K6
Compatible System: macOS/Windows/



PACKAGE CONTENT
1 x Keyboard
1 x USB-A to USB Type-C Cable
1 x Keycap Puller
1 x Switch Puller (Hot-swappable version only)
1 x User Manual
Firmware HERE
Learn how to install a switch on hot-swappable board properly