The K6 has included keycaps for both Windows and Mac operating systems. Hot-swappable version comes with Keychron Mechanical switch preinstalled.


AN INNOVATIVE 65% COMPACT
WIRELESS MECHANICAL KEYBOARD

Crafted to maximize your workspace with an ergonomic design, while retaining all necessary multimedia and function keys. K6 is a super tactile wireless or wired keyboard giving you all the keys and function you need while keeping it compact. With largest battery, the K6 Non-Backlit Version can last up to 2 months.
WIRELESS AND WIRED MODES




Connects with up to 3 devices via Bluetooth and switch among them easily. With high reliable and broad compatibility Broadcom Bluetooth chipset, the K6 is best to fit home, office and light gaming use while connecting with your smartphone, laptop and iPad. It also has wired mode with USB Type-C connection.

SUITABLE FOR ALL DEVICES




Compatible for both macOS and Windows. Keychron is one of only a few in the market that comes with a Mac multimedia keys layout for Mac enthusiasts. For Linux users, we also have a dedicated user group to help with the experience.

*Check high-res layout and keycap size here.

Ergonomic Design


Our meticulously designed layout has differentiate the K6 to other compact keyboards by doing the job right. With dedicated arrow keys (You didn't think you needed them until they were gone) and a reasonable size and position for the right shift key.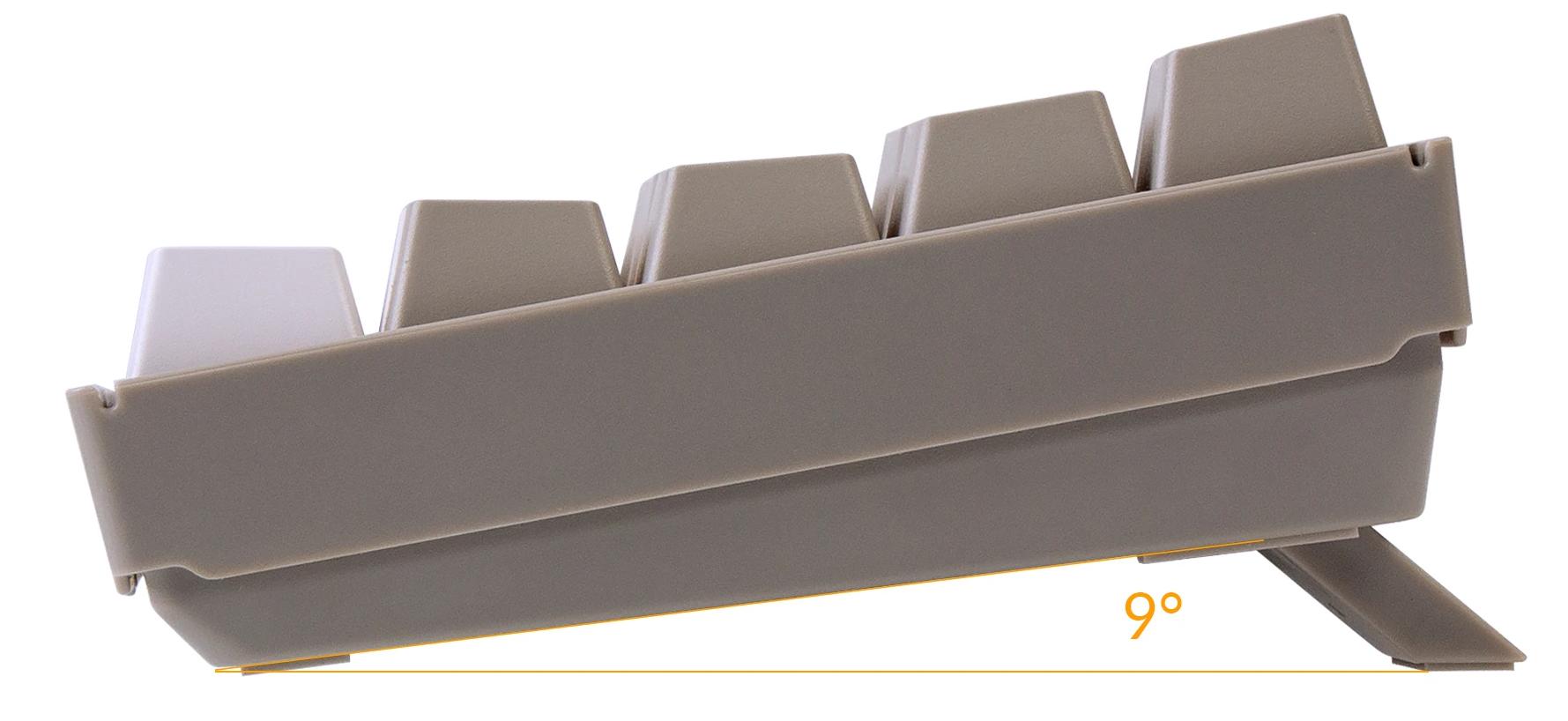 Inclined bottom frame makes the K6 more comfortable to crank out emails or write a novel.
COMPACT YET POWERFUL


The K6 is compact while offering convenient accessibility to all the essential multimedia and function keys through the combination of key presses.

The K6 also comes with navigation keys to offer the same functionalities of a tenkeyless keyboard, but with a smaller desk footprint.





Keychron K6 Features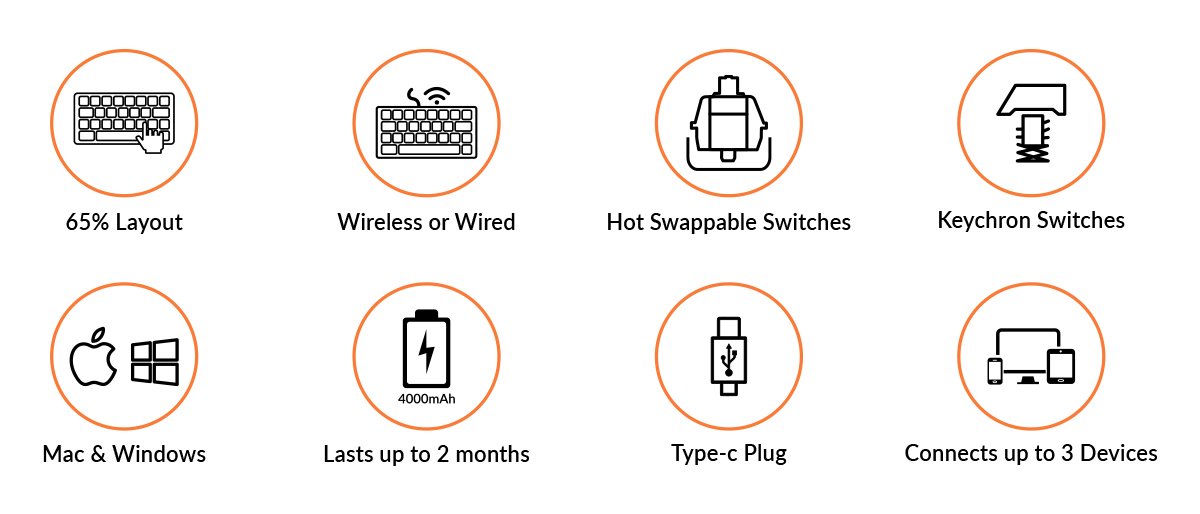 Keychron Mechanical Switch

Comes with a firm and smooth typing feel similar to that of the Gateron Mechanical switches, the K6 Non-Backlit Version shares the same switch compatibility as the K6 Gateron version keyboard.

*Socket of Keychron Non-backlit is compatible with almost all the MX style 3-pin and 5-pin mechanical switches on the market (including Gateron, Cherry, Kailh, etc.).

Largest Battery


The K6 Non-Backlit Version can even be used for around 2 months (8 hrs of daily usage), or up to 570 hours with a single charge.



Hot-swappable

Hot-swappable means to customize your typing experience without soldering, just pop in the switches you want, and its done..

*The K6 Non-Backlight Keychron (Hot-swappable) version keyboard support altering switches.
Socket of Keychron (Hot-swappable) is compatible with almost all the MX style 3pin ("~" key supports 3pin only) and 5pin mechanical switches on the market (including Gateron, Cherry, Kailh, etc.). SMD-LED compatible switches are the best for showing the backlights.
Keychron K6 Layout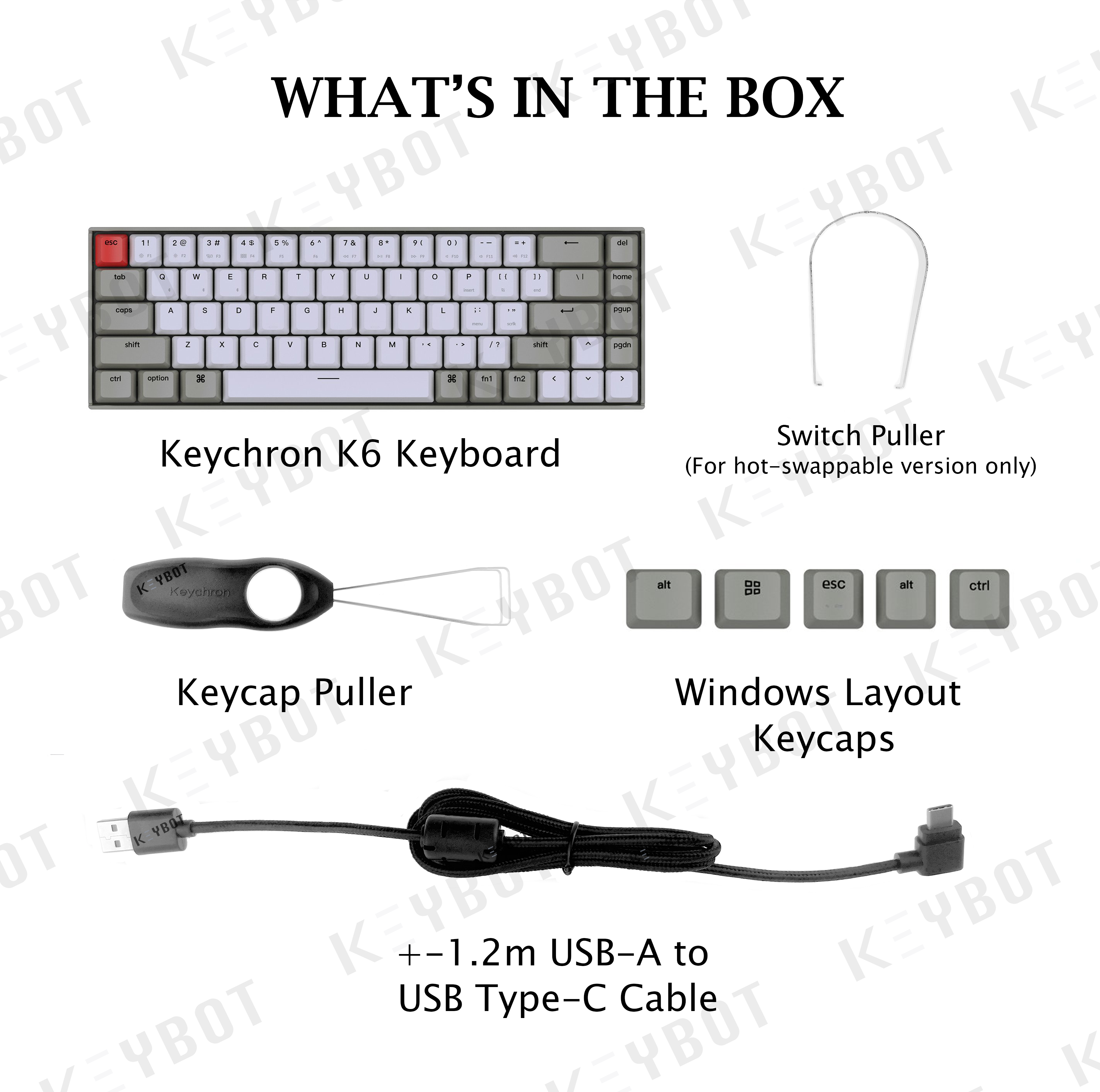 ---
SPECIFICATION


Number of Keys: 68 keys
Switches: Keychron mechanical
Number of Multimedia Keys: 12
Frame Material: ABS / ABS+Aluminum bezels
Keycap Material: Double-Shot ABS
Keycap Profile: OEM
Layout: ANSI

PHYSICAL UNIT


Dimension (Plastic frame version): 313 x 104mm
Weight: About 530g / 18.6oz
Dimension (Aluminum bezels version): 317 x 107mm
Height incl. keycap (front) 30mm
Height incl. keycap (rear) 37mm
Weight: About 664g / 23.4oz
Operating Environment: -10 to 50℃

CONNECTIVITY AND POWER


System: Windows/Android/Mac/iOS
Battery: 4000mAh Rechargeable li-polymer battery
BT Working Time: Up to 570 hours (Lab test result may vary by actual use)
Charging Time: Around 3 hours
Connection: Bluetooth and Type-C cable
Bluetooth version: 5.1
Bluetooth Device Name: Keychron K6
Compatible System: macOS/Windows/



PACKAGE CONTENT
1 x Keyboard
1 x USB-A to USB Type-C Cable
1 x Keycap Puller
1 x Switch Puller (Hot-swappable version only)
1 x User Manual
Firmware HERE
Learn how to install a switch on hot-swappable board properly